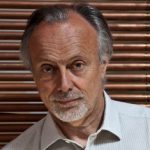 PONSI ANDREA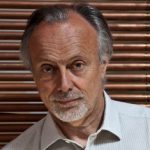 PONSI ANDREA
Elezione: Architetto, eletto Accademico Corrispondente della Classe di Architettura il 05.10.2016
Classe di appartenenza: Architettura
Ruolo Accademico: Accademico Corrispondente
L'attività di Andrea Ponsi include l'architettura e pianificazione urbanistica, il design, la pittura e la scrittura.
Nato a Viareggio, si è laureato in architettura a Firenze nel 1974. Ha poi completato il Diploma di Laurea presso l'Architectural Association di Londra ed è stato premiato con l'Intemational Fewllowship, un Master in Architettura presso l'Università della Pennsylvania a Philadelphia.
Fin dai primi anni '70 ha lavorato sul rapporto tra ecologia e architettura. Nel 1977 insieme a Giovanni Del Signore ha pubblicato "Il Solar House", una monografia di architettura bioclimatica. Dal 1978 al 1988 ha vissuto a San Francisco, dove ha lavorato con Mark Mack, Peter Calthorpe e Sym Van Der Ryn su progetti di architettura e urbanistica, concentrandosi sulla sostenibilità ambientale.
Il suo lavoro è stato pubblicato in libri e riviste internazionali (Domus, Interni, Wallpaper) ed è stato oggetto di mostre personali (Galleria lannone e Galleria Intemos a Milano, Haus der Architekten a Dresda, Universidad Catolica a Santiago, Cile) e mostre collettive (Museo della Triennale di Milano, Biennale di Venezia). Nel 2000 ha vinto il concorso internazionale per la progettazione del Palos Verdes Art Center di Los Angeles. Ha completato molti edifici commerciali e residenziali (Olivart Center 2000, Arezzo padiglione espositivo, Arezzo 2002, Tiburon House di San Francisco 2008), ha progettato e prodotto oggetti, mobili e sistemi espositivi.
Attualmente lavora tra l'Italia e gli Stati Uniti.
Ha insegnato Progettazione Architettonica e Disegno presso la University of California-Berkeley, Syracuse University, University of Toronto e all'istituto Technion di Haifa, Israele. Dall'inizio degli anni '90 è stato docente di progettazione architettonica presso la Rent State University a Firenze e Visiting Lecturer presso la Washington University di Saint Louis, University of Minnesota, Cal Poly di San Luis Obispo e Bahcesehir University di Istanbul.
È autore di varie monografie: "Elementary Design" (L'Archivolto, 1994), "The Copper House" (Alinea Editore, 2000); "Thinking Lines" (Mandragora, 2002).
I suoi disegni, acquerelli e saggi sulla percezione e la rappresentazione dello spazio urbano sono riuniti nei libri "Florence-Changing Viewpoints" (Alinea Editore, 2001), "Firenze sensibile" (Alinea Editore, 2008), "Florence-a map of perceptions" e "San Francisco- a map of perceptions" (University of Virginia Press, 2010 e 2015). La sua ricerca sul ruolo del pensiero analogico nel design è il tema del libro "Architettura dell'Analogia" (LetteraVentidue Editori, 2013), ed è stato pubblicato come "Design and Analogy" nel 2015 dalla University of Virginia Press.
MOSTRE PERSONALI
2014 Florence, a map of perceptions – Italian Cultural Institute, Los Angeles
2008 Viaggiare, disegnare, progettare – Spazio Fond, Florence
2004 Andrea Ponsi Architect – Haus der Architekten – Dresden, Germany
2003 Thinking Lines – SESV Gallery, Florence
1999 Cobre en el Diseno – Centro de Extension de la Pontificia Universidad Catòlica, Santiago, Chile
1998 Slocum Hall – Syracuse University, Syracuse NY
1997 Punto, Una Superficie – Galleria AAM, Milan
1995 Design Elementare – Galleria lnternos, Milan
1992 Ramificazioni – Galleria Antonia lannone, Milan
1980 Architectural Drawings – Philippe Bonnafont Gallery, San Francisco Teaching Positions
INCARICHI
1991-2015 Adjunct Professor, Kent State University
2013 Visiting Professor, Savannah College of Art and Design – Savannah, Georgia USA
1988-2006 Adjunct Professor, Syracuse University
2001 Visiting Professor, Universidad Mayor, Santiago, Chile
1999 Visiting Professor, Technion, School of Architecture, Haifa, Israel
1998 Visiting Professor, The College of Management, School of Interior Design, Tel Aviv, Israel
1990-1995 Adjunct Assistant Professor, University of Toronto, School of Architecture
1984-1988 Adjunct Assistant Professor, California College Of ArtS & Crafts, San Francisco
1983 Lecturer, UC Berkeley. School of Environmental Design Publications ( Monographs)
BIBLIOGRAFIA
2015 San Francisco, a Map of Perceptions – University of Virginia Press, Charlottesville, USA
2013 L'Architettura dell'Analogia – LetteraVentidue Edizioni, Siracusa
2010 Florence, a map of perceptions – University of Virginia Press, Charlottesville, USA
2010 Pipe Garden, Design studio – Alinea Editrice, Florence
2005 Mit Abstand Betrachtet Kupfer – Dokumente zur architektur/Sachsen band III Akademie der Architekten, Dresden, Germany
2002 Thinking Lines – Mandragora, Florence
2001 Firenze, Changing Viewpoints – Alinea Editrice, Florence
2000 La Casa di Rame – The Copper House – Alinea Editrice, Florence
1997 Florence, a map of perceptions – Festina Lente, Florence
1994 Design Elementare – Edizioni L'Archivolto, Milan